A behind-the-scenes performance
The mark of truly smart design occurs when the pieces you don't see are as innovative as the beauty you do. Our below-deck solutions are as smart as our high-performance decking, making Trex® an all-around luxury partner for the outdoors.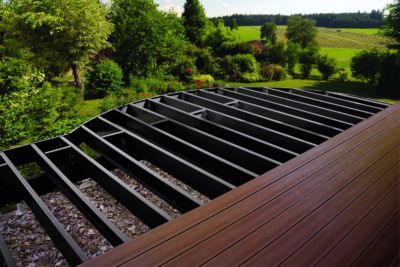 By swapping wood for steel in our deck framing we've reinvented the concept, creating a remarkably stable and consistently flat structure on which to build a high-performance deck–something a warp- prone wood deck frame could only dream about.

A unique under-deck drainage system–a network of troughs and gutters–keeps rain, spills and snow melt from dripping through elevated deck boards, creating a dry patio area on the ground level below.