Who are TrexPro® deck builders?
has an indepedent contractor's license, as required
trained in trex products & installation
carries general liability insurance, as required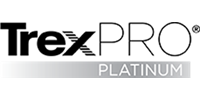 ________
As the leading Trex loyalists in their markets, TrexPro® Platinum builders are experts in completing even the boldest of outdoor living projects.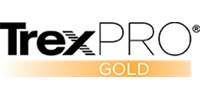 ________
TrexPro® Gold builders undergo advanced training to join a select group of professionals with extensive Trex experience.

________
Versed in all of our products, TrexPro® deck builders offer talented insight on the jobsite.
Trex authorized dealers and TrexPro® deck builders are independently owned and operated, and are neither affiliated with nor agents or representatives of Trex Company, Inc. Trex Company makes no representations or warranties as to, and is not responsible for, the performance, acts or omissions of such parties. It is the ultimate responsibility of the property owner to select a Trex authorized dealer and/or a TrexPro® deck builder based upon their individual assessment of such dealer or contractor.