August 22, 2013
Trex Launches Online Material Estimator Tool For Trex Elevations®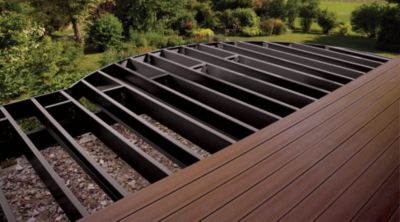 Web-based Program Simplifies Specification of Steel Deck Framing System
for Outdoor Living Spaces

WINCHESTER, Va., August 22, 2013 – Trex Company, the world's largest manufacturer of wood-alternative decking and railing, recently launched a new Online Material Estimator Tool for its high-performance Trex Elevations® Steel Deck Framing System. Accessible from the Trex website (trex.com), the resource makes it possible for both professionals and do-it-yourselfers to easily create a deck framing plan consistent with the applicable code report for Elevations steel deck framing (CCRR 01860). Once a plan has been finalized, the program generates a comprehensive list of materials needed to construct the project as designed.

"The new Online Material Estimator Tool makes it easier than ever to integrate the superior engineering and aesthetics of Trex Elevations into any deck build," said Ronald Kaplan, chairman, president and CEO of Trex. "For contractors and homeowners alike, this resource takes the guesswork out of determining the quantity and type of steel framing components needed for a deck build – streamlining both the planning and purchasing processes."

Specifically developed to provide an intuitive and simplified experience, the Online Material Estimator Tool guides users through three steps:

1. Deck Design – Select from several basic deck configurations – including square,
octagon and T-shaped – which then may be customized with specific dimensions and other details like deck height, stair location and whether the deck is attached or freestanding.

2. Elevations Structure – After finalizing a deck design, view the corresponding steel deck
framing structure – including joists and beams – in either 2-D or photo-realistic 3-D.

3. Reports – Receive a comprehensive list of required Trex Elevations components, as well as
a Deck Plan and Foundation Plan, to reference when specifying materials and beginning an outdoor living space build.

"The Online Material Estimator Tool is another valuable Trex resource for our contractor partners to leverage when helping customers design their dream decks," said Kaplan. "For do-it-yourselfers, the tool offers guidance in taking the first step to create an outdoor living space that combines high performance and long-lasting good looks."

Trex Elevations Steel Deck Framing System
Manufactured of dual-coated, galvanized steel, Trex Elevations offers superior aesthetics, durability, longevity and stability when compared to traditional wood substructures. Non-combustible and insect-resistant, the product will not warp, twist, split or decay, allowing contractors to benefit from reduced callbacks and increased homeowner satisfaction.

With the additional guarantee of a 25-year limited warranty, Trex Elevations surpasses pressure-treated lumber. Trex Elevations materials also are composed of 25 percent recycled steel, and any excess materials from a jobsite are 100 percent recyclable.

For more information about Trex, its outdoor living products and resources, visit trex.com.


Print This Page