April 13, 2018
Trex® Spiral Stairs™ Introduces New Multi-Line Railing System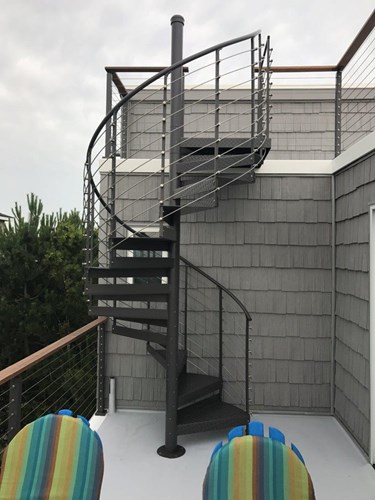 Sleek, Modern Option Designed for Decks with Cable and Horizontal Rod Railing
WINCHESTER, Va., April 13, 2018 – Among the hottest looks in outdoor living today are cable and horizontal rod railing. Capitalizing on this growing trend toward more modern, commercially-inspired looks, Trex® Spiral Stairs™ has added a new Multi-Line Handrail system to its collection. Designed specifically to complement the view-enhancing spacing and sleek styling of cable and rod railing, this new option also provides a functional, space-saving alternative to standard stairs.
"As homeowners increasingly gather inspiration from commercial spaces such as hotels and urban rooftops, they are incorporating sleeker, more modern finishes and accessories into their outdoor living spaces," said Adam Zambanini, vice president of marketing for Trex Company. "The new Multi-Line system from Trex Spiral Stairs is an ideal match for modern outdoor spaces, providing a cohesive look that marries perfectly with cable and horizontal rod railing designs."
The ultra-thin, metallic railing balusters of the Multi-Line system create the illusion of cascading cable railing winding its way down the staircase, while offering the strength and durability of stainless steel. In addition, the system can be enhanced with dimmable LED riser lights from Trex® Outdoor Lighting™, adding both style and safety to any outdoor living space.
The Multi-Line system joins a dozen different Trex Spiral Stairs options, all of which are designed to meld seamlessly with high-performance Trex decking and railing systems. In fact, the treads themselves are available with same high-performance, low-maintenance technology as the Trex Transcend® decking collection, and are offered in all Transcend hues.
Trex Spiral Stairs are manufactured and sold by The Iron Shop, based in Pennsylvania, under a trademark licensing agreement with Trex. The system also comes with an all-inclusive 25-year craftsmanship and defects warranty and five-year all-inclusive finish warranty for additional peace of mind.
For more information, visit Trex.com.
About Trex Company
Trex Company is the world's largest manufacturer of high performance wood-alternative decking and railing, with more than 25 years of product experience.  Stocked in more than 6,700 retail locations worldwide, Trex outdoor living products offer a wide range of style options with fewer ongoing maintenance requirements than wood, as well as a truly environmentally responsible choice.  For more information, visit trex.com.  You also can follow Trex on Twitter (@Trex_Company), Instagram (@trexcompany) Pinterest (trexcompany), or Houzz (trex-company-inc), "like" Trex on Facebook, or view product and demonstration videos on the brand's YouTube channel (TheTrexCo).
About The Iron Shop
Since 1931, The Iron Shop has enjoyed a reputation for outstanding design and fabrication of custom-built spiral, curved and floating stairs. Today, The Iron Shop has grown to become the leading manufacturer of spiral stair kits, with over one hundred thousand satisfied customers worldwide. The Iron Shop's main plant and showroom, located just outside Philadelphia, has four regional showroom/warehouse locations near Los Angeles, Tampa, Houston and Chicago. For more information about The Iron Shop and its products, call 1-800-523-7427 or visit www.theironshop.com.
Print This Page