« All ideas
Expert Advice, Influencer
Q&A with Tastemaker Evette Rios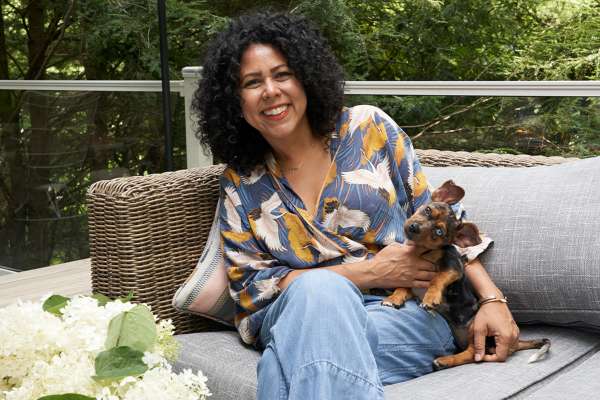 Enjoying the languid pace of home is not something that lifestyle expert, writer, designer and TV personality Evette Rios takes lightly. So when it came to expanding the Pocono Mountains retreat that she shares with her husband, Stephen, and her two sons, Yago and Rex, the Jane-of-all trades knew she wanted an outdoor room that not only reflected her colorful personality but required little of her time when it came to maintenance. Here the style guru shares the ins and outs of her recent Trex deck build.
How did you come to choose Trex for your project?
I try to use sustainable and environmentally friendly products for my home whenever possible, and Trex decking was the ideal solution because it is extremely durable and almost completely made of recycled content.
Did you have any hesitations or concerns about choosing Trex? If so, what?
My only hesitation was that it would not look like real wood and would seem a little plastic-y. The new colors and patterns have certainly helped, and the product now looks gorgeous! The deck boards feature the natural streaking and color variation that you would get with real wood. The texture also helps combat any issues with the feel of the product being too slick or slippery.
Which Trex decking collection did you use? Why did you choose that particular collection (color, grain pattern, price, etc.)?
I chose the Island Mist color from the Trex Transcend decking collection. I love it because it has a silvery aged look that works well with the old barnwood around our property. It is perfect!
What would you say are the greatest benefits of building with Trex?
The maintenance is SO easy! I just use a hose to spray off any debris.  
How do you use your Trex deck?
OMG! We use it for everything! If the weather permits, we have our meals out there, we play out there (I have two kids, ages 4 and 6) and we have a full kitchen (with cabinets from the Trex Outdoor Kitchen collection!), so I cook out there. Plus, there is a hot tub and fireplace, so we spend A LOT of time on our Trex deck!
What is your favorite aspect or feature of your Trex deck?
I love everything about it! The construction, the color and the sustainability of the material, just to name a few.
Any tips or advice for other homeowners that may be considering using Trex?
Consider it! It is an incredibly durable product in a myriad of colors that can go with any outdoor look and feel. Having had many wood decks in the past, I can attest that Trex composites are the way to go. This material is virtually maintenance-free and looks amazing! 
Did you incorporate Trex railing or other accessories, such as Outdoor Lighting, Pergola, Trex Furniture, etc.? Did this factor into your decision to use Trex?
YES! One of my FAVORITE things about the kitchen is the view out the windows at the trees and visiting birds, so I was VERY excited to learn that the Trex Signature railing collection can come with glass panels! So now, I can have a deck and still enjoy an uninterrupted view.
I also used Trex Deck Lighting on the stairs and on the railing. I love the simple, tailored design of the fixtures, which blend in for a seamless look. Plus, the lights are energy-efficient and weatherproof!