« All ideas
Expert Advice
How To Choose A Contractor To Build Your Deck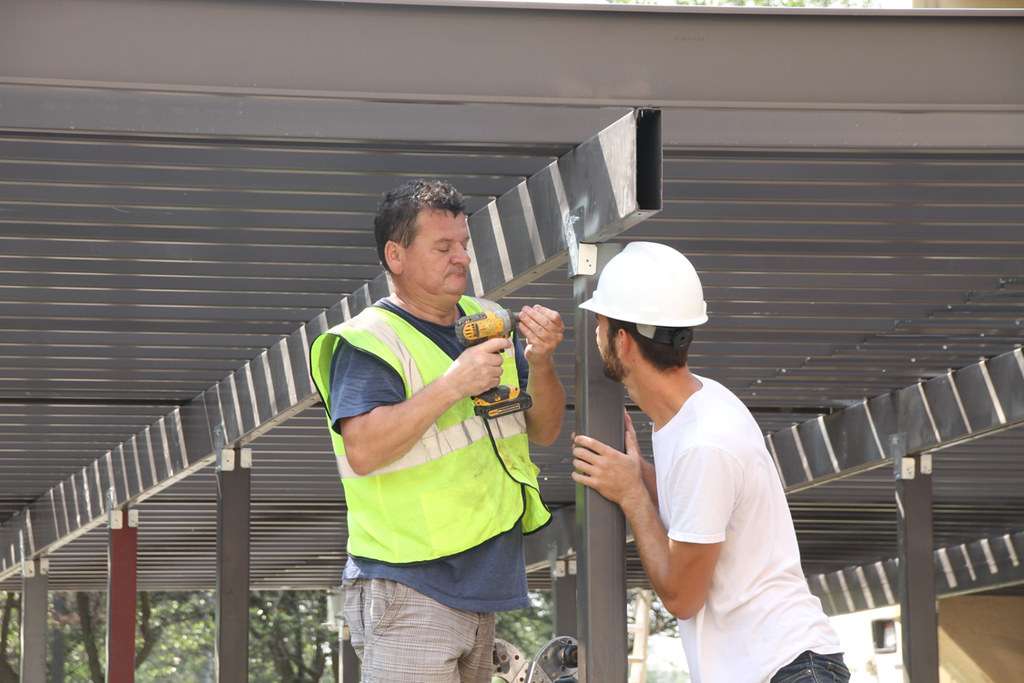 Building a deck can not only add value to your home, but enhances its enjoyment factor. A well-built deck or porch can serve as a welcoming space to gather with friends and family while enjoying time outdoors. In many instances, composite decking affords homeowners the luxurious look of wood, with the benefits of a material that doesn't require as much maintenance as natural wood.
To ensure a return on your investment, it's important to find the right contractor to help you build the deck of your dreams. If you plan to hire someone to build a deck, the process of vetting a contractor will involve homework and legwork on your part -- similar to sourcing a trusted, qualified professional to work on any other home-related service, such as landscaping, roofing, or painting. However, there are some more specific differences to consider when vetting a contractor to build your deck, too.
If you need a deck built, hiring a recommended TrexPro® can help eliminate some of the headaches typically involved with finding a trusted professional. TrexPro deck builders are trained and knowledgeable in Trex products and installation practices and carry general liability insurance, as required.
If you're planning to hire someone to build your deck, here are a few best practices to keep in mind to help you choose the right professional.
Plan Your Deck or Porch
Every good project starts with a plan. Having an idea about the style and structure you want for your deck can help you narrow your choices. With a vision for your deck, you can look for contractors with a portfolio that includes the style that most closely resembles your dream deck.
Additionally, a qualified professional can tell you what is possible with your budget, as well as your backyard's features. They can also help steer you toward a choice that may be more viable, while still helping you decide on a deck you'll enjoy for years to come.
Here are some questions to ponder when planning your deck or patio porch:
What is your budget?

What type of material do you prefer: wood or composite?

What style of railings do you prefer?

Do you want a patterned deck with inlays or an intricate herringbone pattern? Or do you prefer a simpler, more traditional decking pattern?

Do you want a multi-level deck? Or will it be a simple structure that connects to your home?

Will your deck require staircases or a covering?

Do you want embedded lighting?

Do you want your deck to support extra features, such as a fire pit or built-in benches? Or will your deck surround a swimming pool and need to account for that space?
Ask For Deck Contractor Recommendations
If you have a friend or neighbor with a deck you admire, ask them for recommendations on the contractor who built their deck. Asking a trusted friend for a recommendation can help you understand more about a particular contractor's process and if they may be a good fit for your project. You can also use the Trex Find A Builder tool to find a reputable contractor with experience working with composite decking. Knowing your contractor is vetted can give you greater peace of mind when moving forward with your decking project.
Review The Deck Contractors Online
The beauty of living in the digital age is that  you can get a broader range of options and opinions of a contractor and their work, simply by checking out their reviews online. Look to online reviews of deck builders on Yelp, Google Reviews, and Angie's List. It's also a good practice to check out a prospective contractor's Better Business Bureau rating to help you further whittle your choices.
Conduct Phone Interviews
Once you have a shortlist of contractors, it's time to go deeper into the vetting process and conduct phone interviews. Ask contractors about their availability and if it aligns for the desired timeline of your project. You should also confirm that they are licensed. Describe your project to them in detail (and follow up with photos via email) to confirm if they have experience in building the type of deck you want. Be sure to let them know your budget so that you can get an expert opinion as to what's feasible with the funds you have to devote to the project. You may also want to ask them for references from past customers and if it's possible for you to contact them.
Meet The Deck Contractors In Person
Meeting with your deck contractors face-to-face can help you determine if the vision you'd previously discussed over the phone aligns with the reality of what can actually be done. Schedule a time for your contractor to meet you at your house and see the project site. Being able to take a look at where they will build the deck, your contractor can offer you a more informed opinion and let you know if the deck you plan to build works with the terrain of your backyard. You'll also have a chance to evaluate your prospective contractor's communication style and work dynamics.
Have Questions To Ask Deck Contractors
When interviewing your contractor in person, don't just wing it! Prepare a list of questions to ask your prospective contractors. Don't worry! They're used to getting asked a lot of questions from customers, especially during the planning stages of building a deck. Asking the right questions up-front can help head off any potential miscommunication or misalignment before the project is underway.
Not sure where to start? Here are a few sample questions you can plan to ask your contractor:
Are you licensed?

Do you have liability insurance?

Is your crew directly employed by you and covered under your liability insurance? Or are the subcontractors? Are your subcontractors also covered under your insurance?

Do you have experience working with composite decking? Wood?

Based on the type of project we discussed, how long do you estimate the project to take?

Can you tell me a bit about your process? What can I expect in terms of what my yard may look like in the coming weeks?

May I see your portfolio?

May I contact some of your previous clients?

(If you plan to include lighting features on your deck) Have you worked on any projects that may require electrical wiring? If so, do you work with licensed electricians?

Are there any permits that will be required to build my deck? What is your process for securing any necessary permits?

Do you typically handle notifying public utilities in the event any pipes may pass beneath the worksite?

What time will your crew be here to begin work? How late in the day do they typically work?

What type of payment schedule do you prefer?

Tell me about a project where things didn't go as you'd originally planned. What steps did you take to address any issues and complete the project?
Get An Estimate
If you feel a contractor may be a good fit for your project, ask them for an estimate. Request a detailed breakout of the work to be done, materials to be used, estimated time frame for your project, as well as the cost breakouts associated with each aspect of the project. Requesting this detailed information in writing can give you a document to refer to and compare against any other prospective contractors you're considering for your project.
Keep Communication Open
After you've committed to a contractor, it's important to keep the lines of communication open once your project is underway. Be sure you have your contractor's contact information readily available and added to your phone and email contacts to avoid missing important calls and to prevent emails from accidentally being filtered to your spam folder. Additionally, be sure to get the contact information of any other workers on the project in the event they have to contact you.
During your interview process, you should have gotten a clear understanding of how your contractor may handle any issues that arise. While many of those aspects of a building a deck or porch are often hypothetical, if a hitch in plans does occur, it's important to clearly communicate any expectations and get written confirmation of the problem and how your contractors plan to resolve it.
Track All Changes To The Deck Construction In Writing
Sometimes, even the best laid plans can go astray. Unforeseen setbacks -- such as weather or access issues -- may extend the projected completion date of building your deck or porch. A certain material you may have requested may be out of stock or backordered, or materials may have been damaged in transport. Whatever the reason for the setback, it's important that any and all requests or changes to your project are documented in writing to protect both you and your contractor.
Be A Good Customer
While you may have a list of qualities you're looking for in a contractor, it's also important to be a good customer, in return. Be respectful of your contractor's time. If possible, try to make sure they have a workspace free from clutter. Making sure your pets and children don't wander onto their worksite while they're there can also help them do their job efficiently, and keep two-legged and four-legged family members safe.
In addition, making timely payments and being friendly and considerate to their crew -- offering a cold bottle of water or use of your bathroom, if needed -- is always a thoughtful gesture that is certainly appreciated for contractors who put in long workdays outdoors.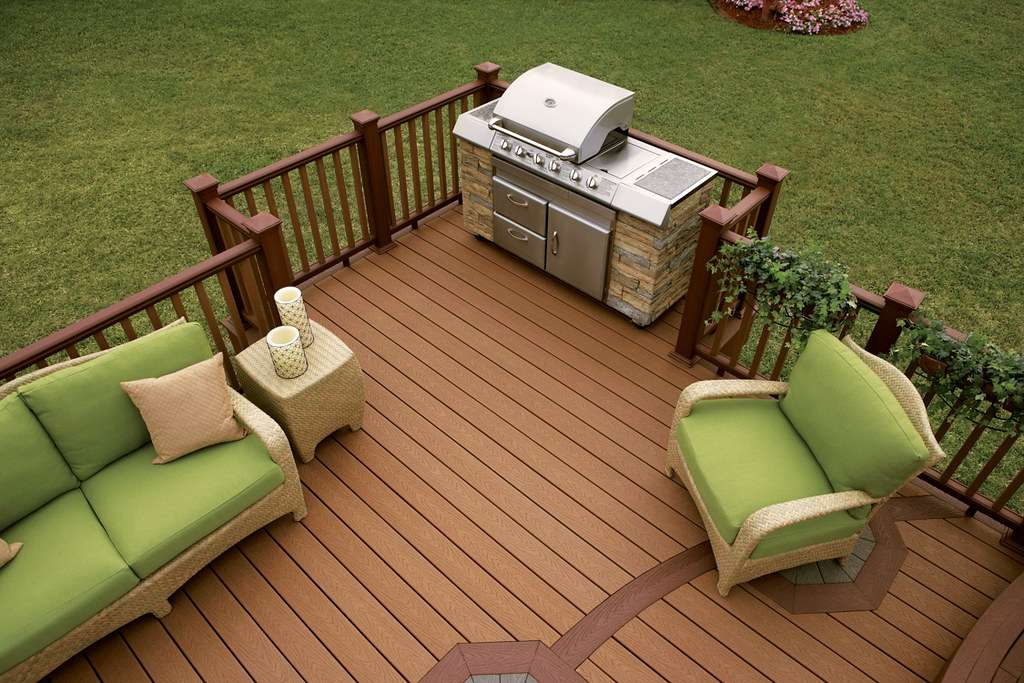 Start Planning Your Dream Trex Deck Today
Building a deck or adding a porch to your home can create a welcoming space that you'll enjoy for years to come. Get inspired with ideas that you love and work with a professional to make those dreams a reality. Ready to get started? Find A Builder and get in touch with a licensed Trex deck builder today!